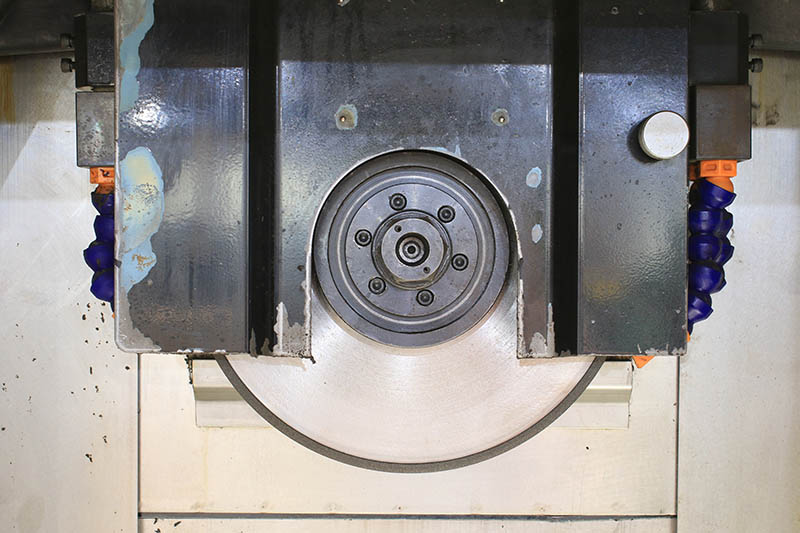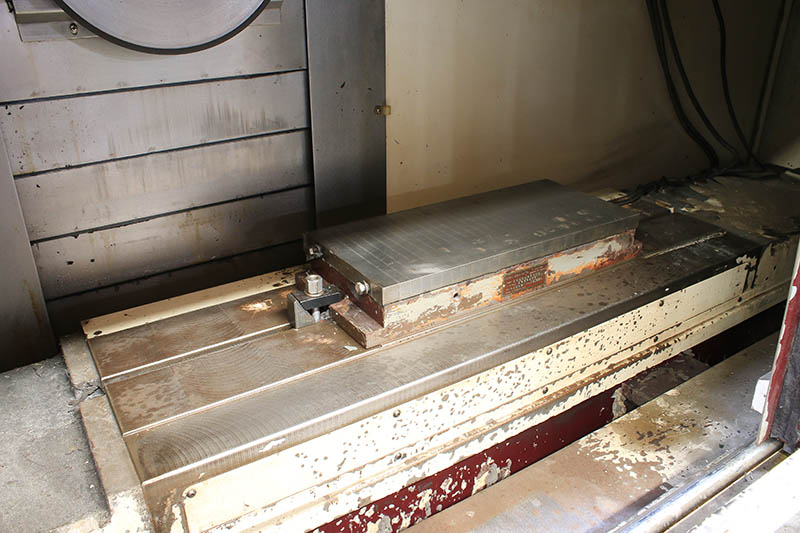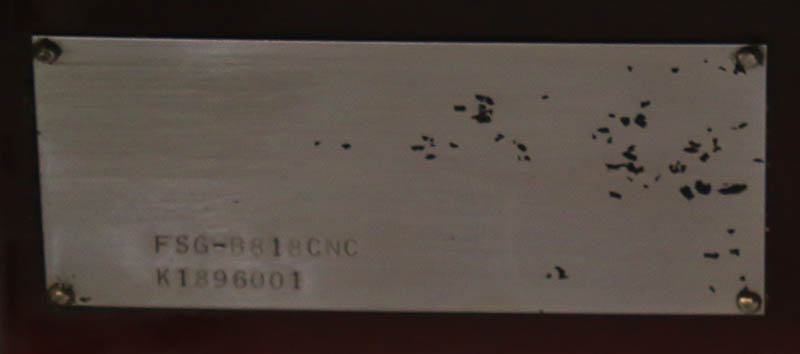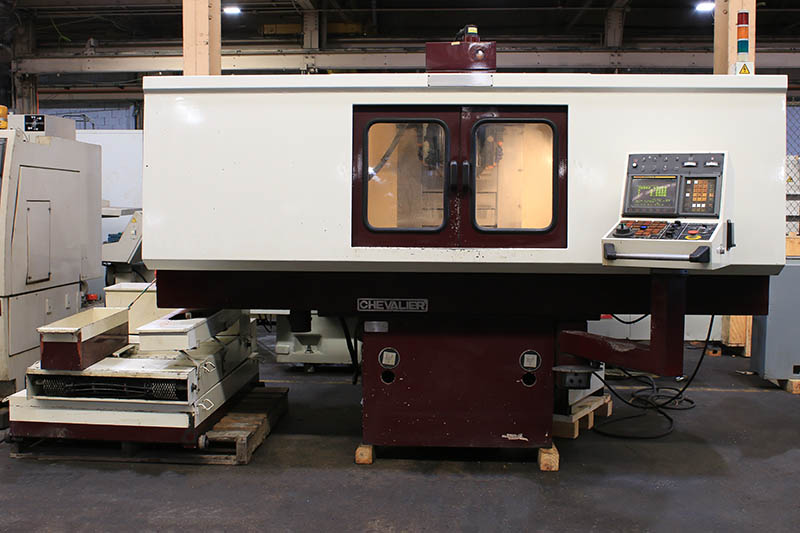 ---
Watch Video:
Chevalier FSG-B818CNC CNC SURFACE GRINDERS
Price on Request
Make:

Chevalier
Model:

FSG-B818CNC
Year:

2000
Ref #:

157316
Or call us for a quote at (973) 497-7500 or send us an email at grinders@machineryvalues.com
---
8" X 18" CHEVALIER CNC COLUMN TYPE SURFACE GRINDER, ALL THREE AXES ARE
BALLSCREW DRIVEN, WITH FANUC OMC 3-AXIS CNC CONTROL & SERVO MOTORS
* PROFILE, SURFACE, FORM, STEP, INDEX & CREEPFEED *
MODEL: FSG-B818CNC S/N: K1896001 NEW: 2000
SPECIFICATIONS:
TABLE SIZE: 8" X 18"
MAX DIST FR TABLE TO SPINDLE CENTERLINE: 19"
CROSS TRAVEL, MAX 11"
COLUMN FEED INFINITELY VARIABLE 0 TO 13' FPM
T-SLOT SIZE X NUMBER: 15/32" X 1
MAXIMUM TABLE LOAD: 440LBS
TABLE SPEED - INFINITELY VARIABLE: 0.032 to 49' FPM
MAXIMUM LONGITUDINAL TRAVEL: 25 1/2"
WHEELHEAD FEED - INF VARIABLE: 0-20IPM
GRINDING SPEED: 500 to 3,500 RPM
POWER RATING: 10 HP
GRINDING WHEEL: 12" x 1- 1/4" x 3"
MACHINE WEIGHT: 8,700 LBS.
ACTUAL DIMS OF MACHINE: 118" X 92"W X 93"H
EQUIPPED WITH:
FANUC OMC 3-AXIS CNC CONTROL
FANUC RED CAP AC SERVO MOTORS
-CRT DISPLAY
-RS-232 PORT
-0.0001" LEAST INPUT COMMAND
-FOUR STANDARD GRINDING CYCLES: CRISS-CROSS, SURFACE,
PLUNGE AND PITCH MODES WITH AUTOMATIC WHEEL DRESSING AND
COMPENSATION. THIS MAKES THE MACHINE HIGHLY CAPABLE
TO DO PROFILE (CONTOUR) GRINDING, CREEPFEED GRINDING,
FORM GRINDING AND STEP GRINDING WITH AUTO WHEEL DRESS
WITH COMPENSATION.
10 H.P. SPINDLE MOTOR/3/50-60/230-460 VOLTS
YASKAWA "616PC5" VARISPEED DRIVE FOR THE SPINDLE
MACHINE HAS A 12" DIAMOND GRINDING WHEEL ON IT
PRECISION BALLSCREWS ON CROSSFEED, ELEVATING AND TABLE
AC SERVO MOTOR DRIVE ON ALL 3 AXES FOR CREEPFEED GRINDING
EXTREMELY RIGID SPINDLE THAT ARE SUPPORTED BY SIX ANGULAR
CONTACT BALL BEARINGS.
THE COLUMN TRAVERSES ON PRECISION ROLLER BEARINGS ON
HARDENED AND GROUND GUIDEWAYS.
T-SHAPE DESIGN MACHINE BASE GIVES IT THE RIGIDITY FOR HEAVY DUTY OPERATIONS.
8" x 18" ELECTRO-MAGNETIC CHUCK
CHUCK CONTROL BUILT-IN TO THE CONSOLE WITH VARIABLE HOLD INTENSITY
LARGE COOLANT SYSTEM WITH PAPER FILTRATION
FULL ENCLOSURE
MACHINE IS PRESENTLY WIRED FOR 3ph/50-60Hz/230 VOLTS
SPECIAL NOTE:
THIS MACHINE RUNS BEAUTIFULLY. THE SPINDLE IS SUPER QUIET.
** EXCEPTIONAL (ORIGINAL) CONDITION & APPEARANCE **
** INSPECT UNDER POWER IN OUR HARRISON, N.J. WAREHOUSE **
---
DISCLAIMER: The information presented in the write ups and the photographic representations of the equipment are believed to be accurate at the time the pages are created. The information presented on the web site should not be used for formal quotation. Price and information presented in the write ups on the web site are subject to change without notice. Machinery Values claims no responsibility for inaccuracies of the information presented on the pages of this website. Please contact one of our sales representatives if you require more information or a current formal quotation.
We're here to help
Looking for a specific machine?
Address
401 Supor Blvd.
Harrison, NJ 07029
Phone
Voice: (973) 497-7500
Fax: (973) 497-7501
Email
sales@machineryvalues.com
Address 401 Supor Blvd.
Harrison, NJ 07029
Subscribe to Receive our Most up to Date Machinery Listings
For our latest machines and inventory, sign up to receive our weekly email to be first to bid on a machine.