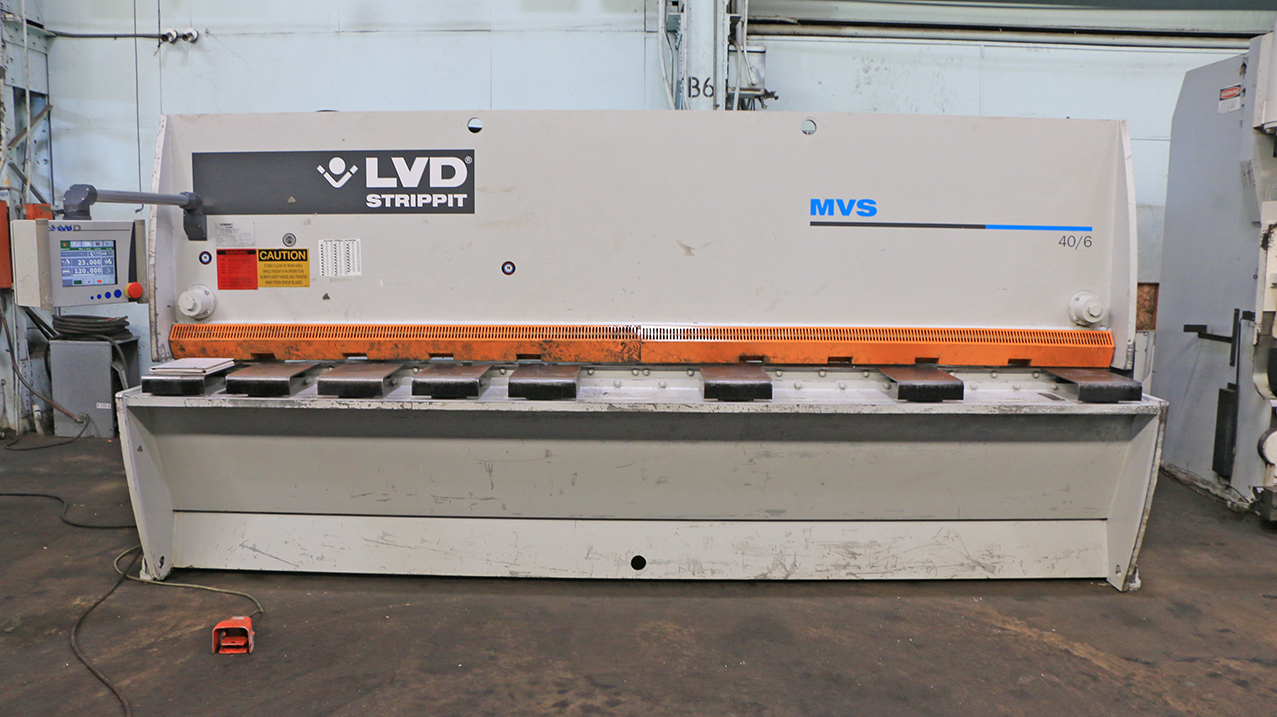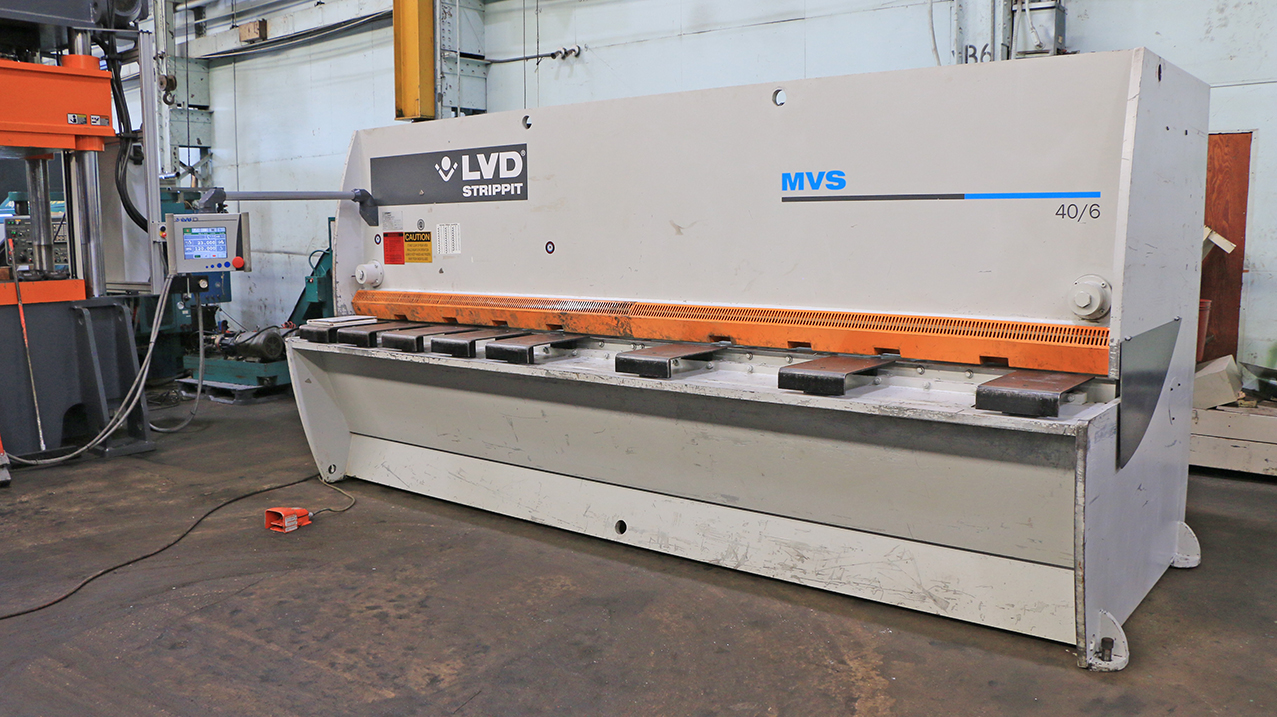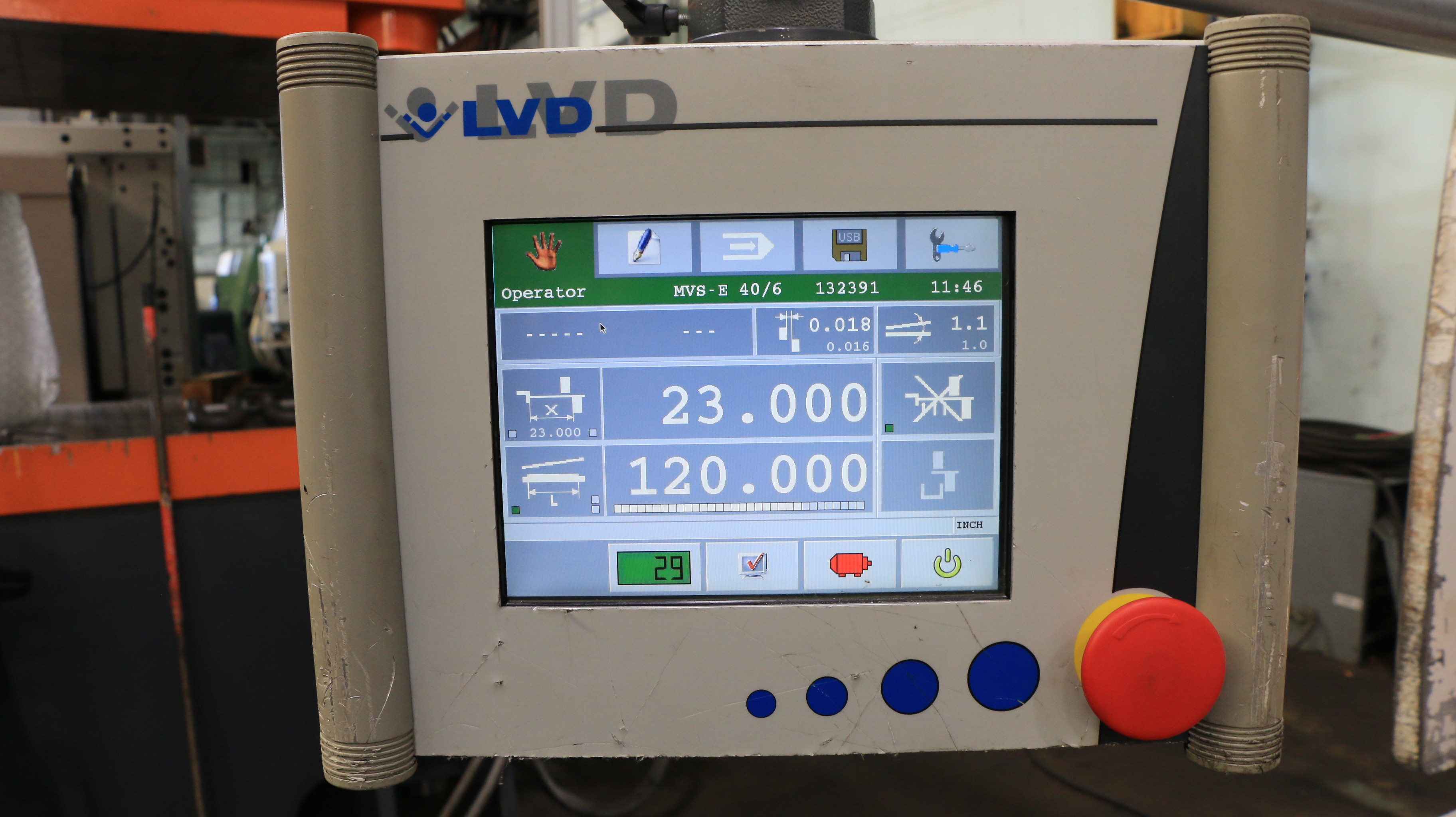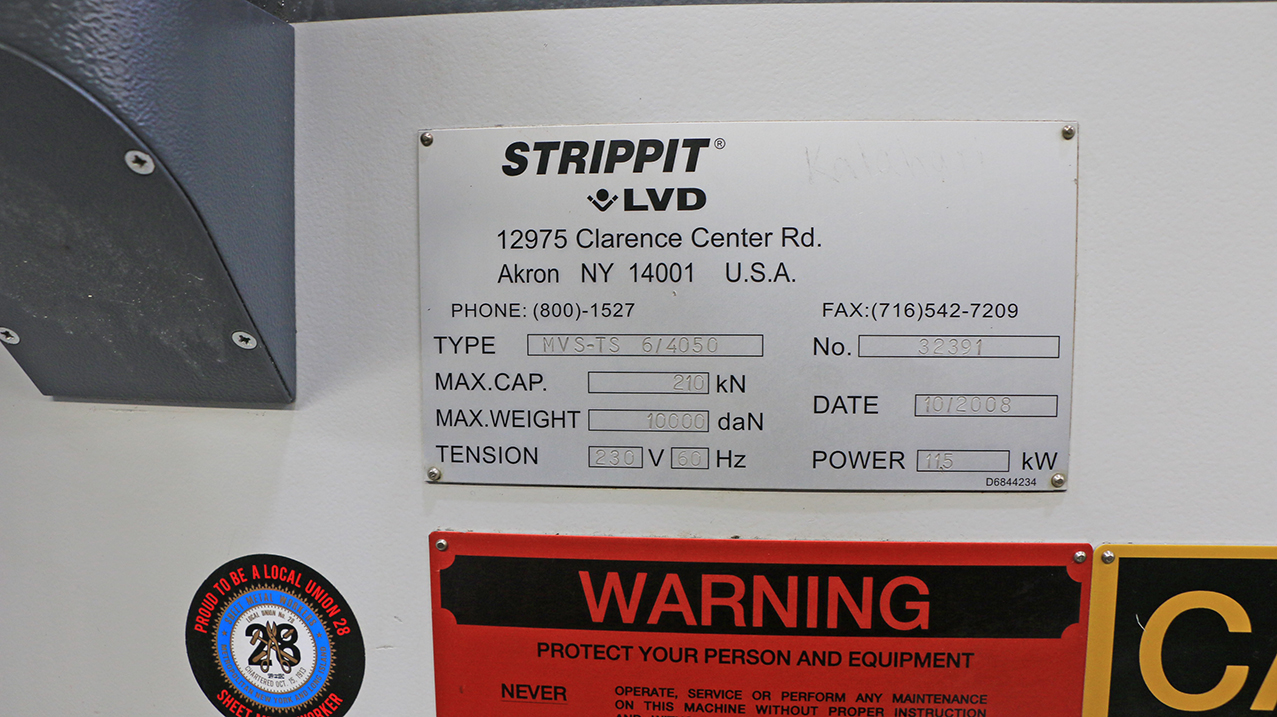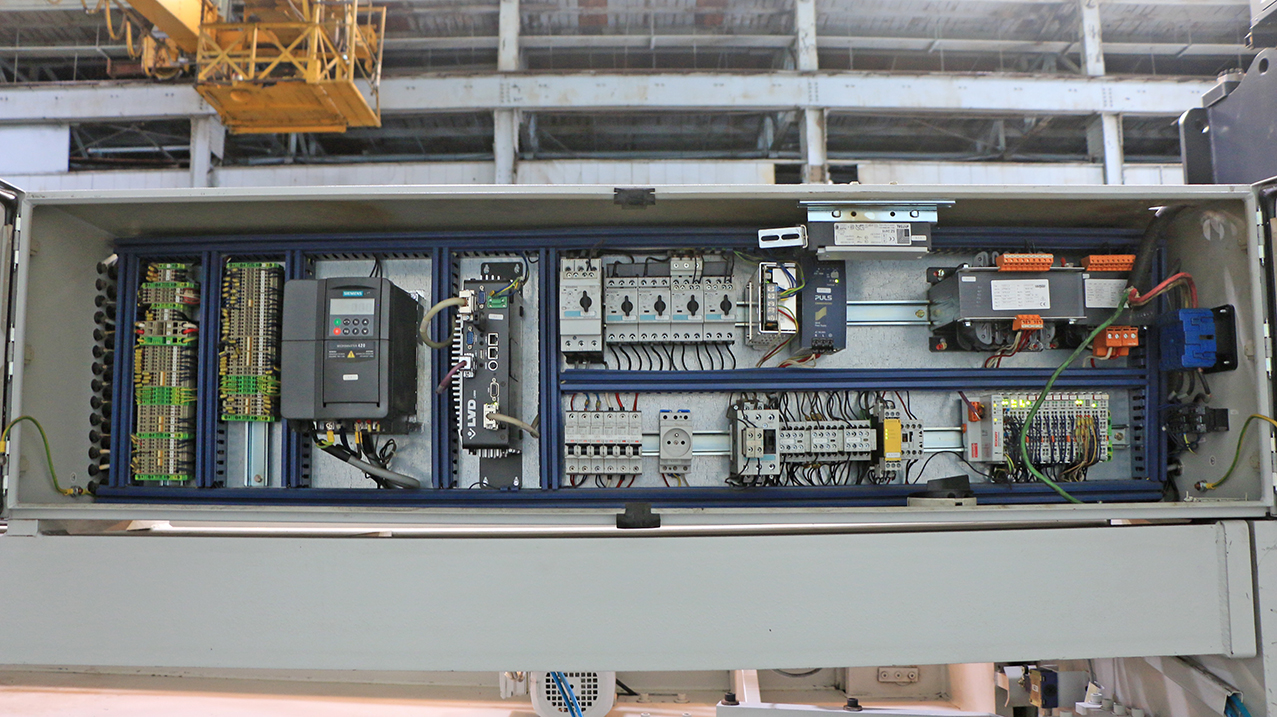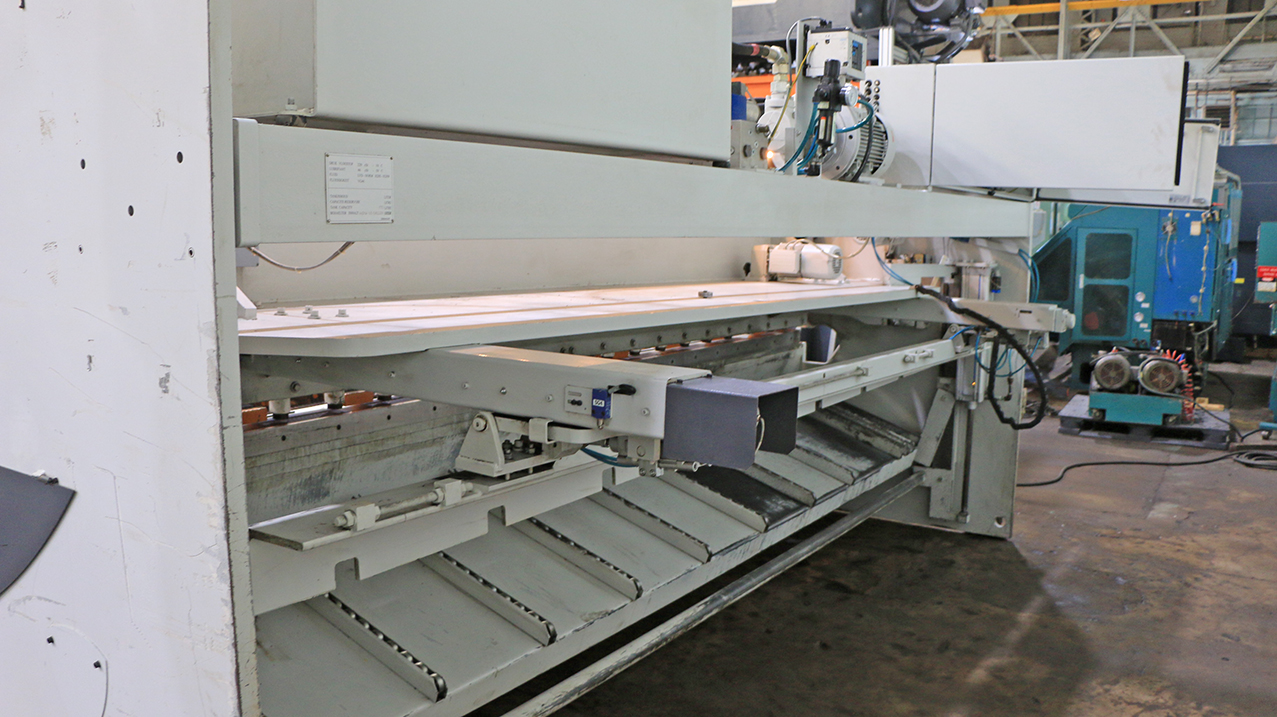 ---
Watch Video:
LVD MVS-TS-6/4050 POWER SQUARING SHEARS (inches)
$34,500
Make:

LVD
Model:

MVS-TS-6/4050
Year:

2008
Ref #:

159999
Or call us for a quote at (973) 497-7500 or send us an email at presses@machineryvalues.com
---
13' X 1/4" LVD/STRIPPIT TOUCH SCREEN HYD. SHEAR
MODEL MVS-TS 6/4050 S/N 32391 NEW 2008
CAPACITY MILD STEEL .............. 6.35 MM / .250"
CAPACITY STAINLESS STEEL ......... 4 MM / .157"
BLADE LENGTH ..................... 4050 MM / 159.4"
NUMBER OF HOLDDOWNS .............. 21
RAKE ANGLE ADJUSTMENT ............ 0.5 - 2 DEGREES
STROKES PER MINUTE ............... 30
THROAT DEPTH ..................... 5.9"
BLADE CLEARANCE .................. .002" - .031"
BACK GAUGE RANGE ................. 1000 MM / 0" - 39.37"
DIMENSIONS: 178" x 73" x 84" Height
Key features:
- Intuitive touch screen control
- Touch-and-Go backgauge system
- Push-button adjustable stroke length, blade gap and rake
angle optimize cutting
- Ball transfer system simplifies material processing
- Large throat gap permits overlap cutting
- Swing-away backgauge for cutting larger workpieces
- Rear sheet support system
---
DISCLAIMER: The information presented in the write ups and the photographic representations of the equipment are believed to be accurate at the time the pages are created. The information presented on the web site should not be used for formal quotation. Price and information presented in the write ups on the web site are subject to change without notice. Machinery Values claims no responsibility for inaccuracies of the information presented on the pages of this website. Please contact one of our sales representatives if you require more information or a current formal quotation.
We're here to help
Looking for a specific machine?
Address
401 Supor Blvd.
Harrison, NJ 07029
Phone
Voice: (973) 497-7500
Fax: (973) 497-7501
Email
sales@machineryvalues.com
Address 401 Supor Blvd.
Harrison, NJ 07029
Subscribe to Receive our Most up to Date Machinery Listings
For our latest machines and inventory, sign up to receive our weekly email to be first to bid on a machine.